"P. Mauriat ! Go For the Sound !"
---
About P.Mauriat !
Music is a medium for humankind to realize our thoughts, to speak a language that has no bounderies, to express life's vast range of emotions. In this endeavor, an instrument can act as a barrier between the player and the imagination, distorting their true intentions. Or it can be an effortless extension of their soul. P. Mauriat has given the world a family of saxophones and trumpets that are not obstacles, but are keys that unlock doors in a creative mind.
Hand Craftsmanship - From Beginning to End
P. Mauriat saxophones are different from all other modern saxophones, in that they are handcrafted from beginning to end. A living breathing person carries out every process that the saxophone is put through, from shaping to lacquering. Vibrant life is what sets our saxophones apart.
P.Mariat stands tall and full of color.

The craftsmanship that goes into each P.Mauriat saxophone is second to none. Our European brass, used in combination with selected other quality metals, is super resonant due to the extensive hand hammering process that it undergoes in the factory. Unlike most other manufacturers, a P.Mauriat saxophone bell will be hammered as many as 400 times before it moves on to someone else's expert hands for the final shaping. Each tone hole is drawn from the saxophone one by one to ensure the precision and consistency required for excellent response and intonation. Our dark lacquer is applied in three stages to our vintage saxophones to achieve a timeless look that will last through the years. Finally, the hand engraving is masterfully accomplished with nothing other than a simple hand held tool and years of experience. The embodiment of aesthetic beauty and technical precision. P.Mauriat saxophones are truly the finest saxophones made today.

P.Mauriat leads the industry as the innovator of modern vintage saxophones and trumpets. Each horn is hand crafted from start to finish out of the very finest materials. From fresh ideas in metal combinations, to cutting edge neck designs and trend setting finishes. P.Mauriat continually works to solidify their reputation for creating horns that offer the sound, response, ergonomics and intonation that will impress even the most demanding players.
---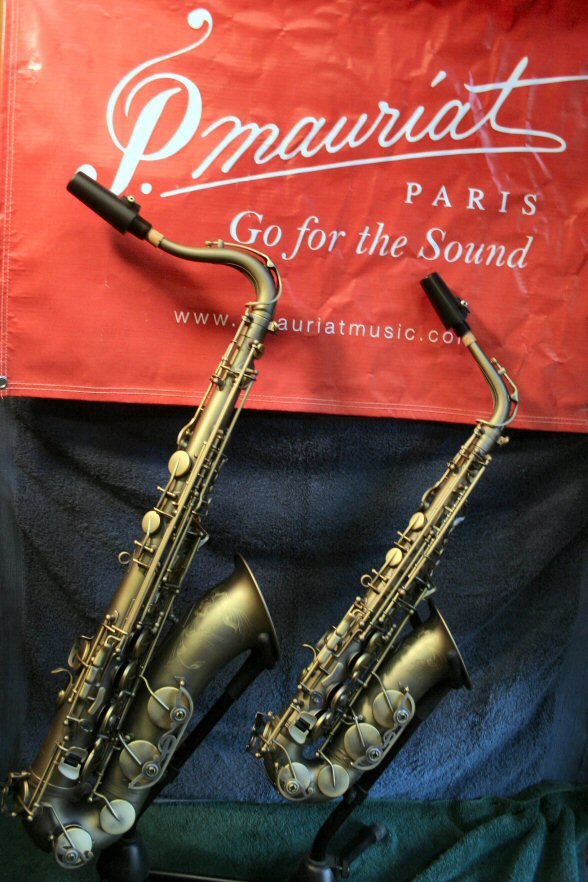 The P.Mauriat sax with the dark lacquer finish is a very popular model.
It is fun to play, and has a totally awesome sound ! ! !
---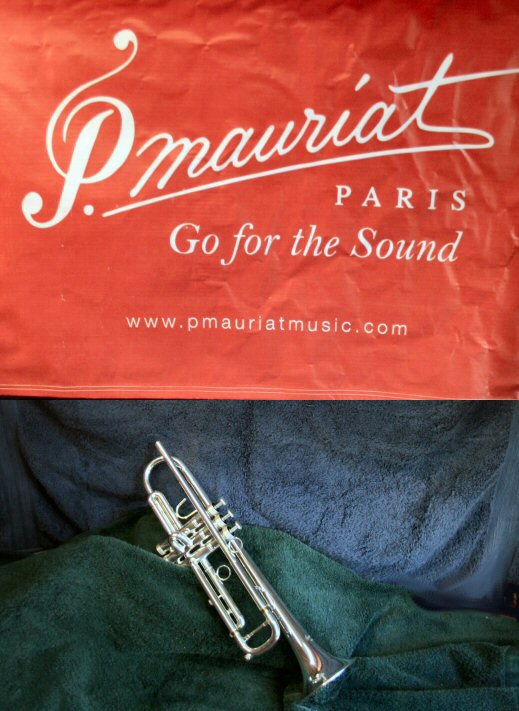 The P. Mauriat trumpet has been played by several area professional musicians. All agree that it is a great playing horn, that "slots" really well.
Some have even volunteered that the upper end of the instrument is "more friendly" than on their own pro line horn!!
---
Stop by to play one of these Pro Line instruments, and receive a very competative price quote.
---
Home || About || Repairs || Sonic || Tomasi Flutes

Strange || Pro Page || Superial Reeds || Horns For Sale || Importance of Instrument Sanitation
---
Copyright © 1997 Stateline Inst. Repair, Inc.
statelinerepair77@gmail.com
Last updated Wednesday, May 3, 2017 11:12:26 AM